VOLUME FIVE: water & LIGHT
HACKWITH DESIGN HOUSE
We search far and wide for creators who work with a process we believe in, and fashion designer Lisa Hackwith and her partner, Erin Husted, just raised our standards.
Captivated by her stunningly minimal Instagram feed and purpose-driven fashion posts, we decided to visit the Hackwith Design House Studio and learn more. We left sunny LA for a very cold, but still inspiring Minneapolis (Who knew so many incredible creatives make their homes there?!), and we found a space that was as well-designed as it looks on the internet.
AESTHETIC DESIGN CO.
If you're ever looking for visual inspiration or real help re-branding, may we recommend the stunning Aesthetic Design Co. The design house's consistent color tones, brilliant forward fashion and intriguing photography are just a few on the list of reasons we're totally inspired by them. We could drool over their look all day, but beyond that, it's their focus on community and their consistently raw approach to art that is uniquely admirable.
Aesthetic's founder, Benjamin Ewing, agreed to a let's-get-to-know-you conversation and the insight was beautiful.
Autumn reeser
Autumn Reeser is most well-known for her acting in shows like the OC, Entourage, and The Girl Next Door, but her art goes far beyond her skillful acting. We spent some time with Autumn, and found her passion for true, honest art completely refreshing. Having balanced a thousand different projects at once in her creativity-filled home city, Los Angeles, she is an expert on making a vision happen. In an attempt to bring some of her expertise to your lives and ours, we asked her how she does it.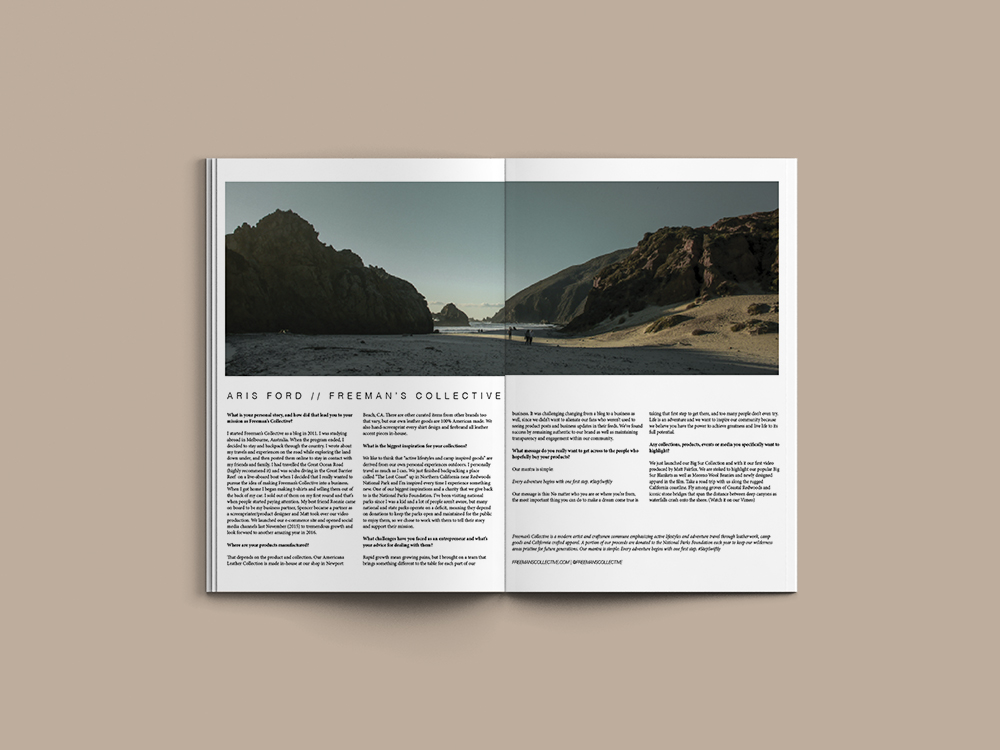 Editor in Chief
Julie Mullen
Photographers
Benjamin Ewing
Velvet & Popcorn
Nathan Tecson
Writers
Libby Mueller
Julie Mullen
Erica Griffith
Editors
Michael Inouye
Amy Inouye
Paul Mullen
Nancy Mullen
Erica Griffith
Libby Stagnaro

Online Media
Sophia Munch
Erica Griffith

Promo Video
Jordan Ruiz: Music
Nathan Tecson: Camera
For the Realists
HACKWITH DESIGN
HASHTAG NO FILTER
SIMPLE LESSONS FROM GOOD FRIENDS
For the Dreamers
AUTUMN REESER
UNIQUE USA
DPRTURE
AESTHETIC DESIGN CO.

For the Curious
JORDAN RUIZ
FREEMANS COLLECTIVE
SSEKO DESIGNS
HATCHERY
ALDEN BLAKE
 
Donors & Special Thanks
Jim & Shirley Freeman
Paul & Nancy Mullen
Barbara Ingraham
Chris Scotto Divetta
Leland & Marylois Tupper
Sarah & Bush Nielsen
George & Kathy Jelich
Carrie Mullen